Disclosure: This post was sponsored by The Fitness Games through my partnership with Fit Approach as a Sweat Pink Ambassador. I was not compensated monetarily, but was provided the Platinum Version of the application for review. As always, all opinions are my own. Full PR & Disclosure here.
LET THE GAMES BEGIN!
The Fitness Games (TFG) is a new app for both iPhone, iPad and Android that combines fitness, gaming, and social media all-in-one. It was created by Arya Farzin and Joseph Phillips to help people change their lives and have fun doing it. Here's how the games work…
Once you download this free app and put in your basic information you are taken to the Home screen which gives you 4 workout options:
Strength - weight routines in both Olympic and split routines
Cardiovascular - running outdoor, running, biking outdoor, biking, swimming, rowing, elliptical
Full Body - circuit training with machines, weights, and body weight
Cross Training - body weight and running
Each category is set up to challenge yourself, a friend, or random opponent from around the world and each one has its own scoring system (time, number of reps, etc.) to determine the winner. The more points you get - the more bragging rights you have and the more workouts you can unlock for free.
Sounds pretty cool so I decided to challenge my first opponent in the Cross Training category; Bodyweight Madness 2.  This workout has 8 exercises that must be completed as a circuit, three times through. The names of the exercises in blue give you a description, picture(s), and a video showing you how to do the move(s).
Each one of the exercises looked easy enough but when I got through round 1 - I realized that this workout was NO JOKE! 25 minutes and 326 calories later I had never been so happy to finish a workout or so excited to try another! It was truly a fun workout and I can't wait to see if I won the challenge.
PROS: This app is fun to use and the workouts are very challenging. I love that there is a private facebook group that you can use to connect with others and enter challenges to win cool prizes.  I also love that they included body weight exercises for those of us who do not run or don't belong to a gym. One of the coolest features is for runners - there is GPS tracking to connect with people both near and far, in real-time, and actually watch them run with you on your phone! 
CONS: I wish that it was easier to find people to challenge and connect with through the social media platforms. Also, one of my challenges that I completed disappeared before the other user got to do it. We don't know if it was her error or the app, but it's sad that it won't show all my hard work (especially since it was so difficult to finish)!
UPDATE: We talked and they listened! There are 5 new updates coming out in the next week:
You'll be able to like profile photos and video and view who else liked them too.
You'll be able to share challenge results, wins, photos, and video on Facebook, Instagram and Twitter.
There will be badge notifications when someone likes or comments on a photo/video.
You can run against a ghost version of yourself to try and beat your previous time and distance.
TFG has implemented a feature that allows the app to continue to run in the background during challenges. It is available for Android users and is in the approval process for iOS - it should be cleared within the week.
All in all I give this app two thumbs up! It's really fun to use and it seems that the creators are really paying attention to what the user wants and making upgrades as needed.
Tweet: Challenge your fitness with #TheFitnessGames! Check out @TFGapp and let the games begin! http://ctt.ec/gd5dj+ @fitapproach #sweatpink
If you'd like to learn more visit The Fitness Games' website here or connect with me on the app - my username is BodyRebooted.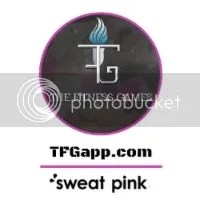 Comments
comments