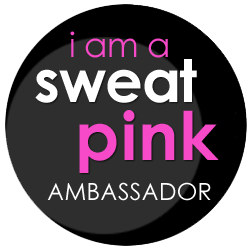 What an amazing week this is turning out to be! I'm feeling great, fitting into clothes I haven't worn in years, and last night I received an email from the founders of Sweat Pink welcoming me to their community as there newest Sweat Pink Ambassador!!! Hooray!
What is Sweat Pink you ask?
It's a group of real women that sweat, and sweat hard. They believe that kicking ass is best done in pretty shoes (with pink shoelaces) and that assertiveness, strength, and ambition are THE ultimate feminine qualities. The Sweat Pink community inspires, supports one another, and helps others to reach their health goals. The result is a fit approach and a healthy community being built one pair of pink shoelaces at a time! I am truly honored to be a part of this family and I can't wait to dig in deeper and be an active member on so many levels.
If you'd like to check out their website - click HERE. If you are currently a Sweat Pink Ambassador - please let me know so we can connect. Yay!